Social engagement of BIBUS Ukraine LLC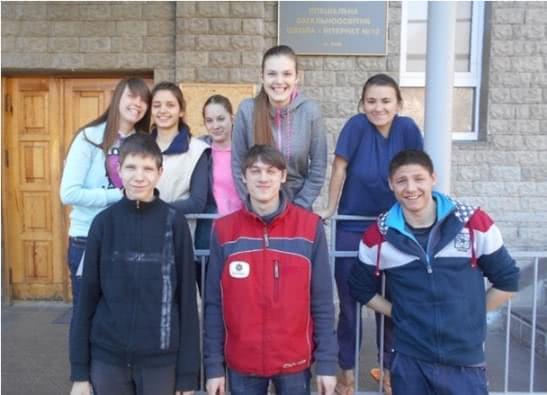 The social aid and participation in the life of at least one person - this is our debt to the society and evidence of affection and care about the future of our country. The charity program of BIBUS Ukraine LLC is focused on the help and support of orphaned children.
Taking care of orphan children, who are in difficult vital conditions and need our support - is a corporate and social duty we are pleased to take on. BIBUS Ukraine LLC works closely together with the Kyiv Children and Youth Support Center, which was created in 2004 to help graduates with their special needs on a way to independent life. The founders of the Center are former residents and staff of Kiev Orphanage No. 12.
The aid is provided to graduates of institutions for children with physical and/or mental disabilities, to orphanages and schools for children with special needs, tokids and youth in different crisis situations.
Graduates receive help in their search of a place to live and work.A microloan program is in action. Orphans who attend colleges receive monthly stipends.
Besides, group meetings and trainings on the vital life skills, sport activities and recreational programs are being regularly held. Legal and psychological consultations are available to orphans wrongly accused of crimes or those in conflict with the law.
The Center also takes care of the children who still live in orphanages. For example, it supplies equipment and tools for sensory rooms, speech therapy, art therapy, physical therapy, medical equipment and medicines, assists in receiving medical services in private and state clinics, purchases computers, smart boards, provides Internet access.
Besides, children attend museums and theaters, take excursions through Kyiv and other cities of Ukraine, and make trips to the other countries of the world.
The main aid recipients of the Kyiv Children and Youth Support Center are:
Special Boarding School No. 12 for children with special needs (150 children)

Tsyurupinsk Orphanage for Children with Severe Physical and Mental Problems, the Kherson area (165 children)

Tsyurupinsk Special School for Children with Special Needs, the Kherson area (55 children)

Orphanage No. 7, Nikolaevka, Donetsk region (120 mentally retarded children)

Lutugino Orphanage for Children with Special Needs, the Lugansk region (125 children)
Kyiv Children and Youth Support Center:
Entuziastov str., 31-94
02091, Kyiv
tel./fax: +380 44 564 68 87
e-mail: kiev.centr@gmail.com
BANK DETAILS FOR DONATIONS IN EURO
Name of organization: The Kyiv Children and Youth Support Center
Address of organization: vul. Entuziastiv 31, kv. 94, Kyiv, Ukraine 02154
IBAN Code: UA933052990000026004025017798
Bank Name and Address: JSC CB "PRIVATBANK", 1D HRUSHEVSKOHO STR., KYIV, 01001, UKRAINE
Bank SWIFT Code: PBANUA2X
Correspondent Bank: Commerzbank AG, Frankfurt am Main, Germany
Account in Correspondent Bank: 400886700401
Correspondent Bank SWIFT code: COBADEFF
Payment Details: DONATION (it is very important to indicate "DONATION" on the wire form for tax exemption)
***

In 2015 BIBUS Ukraine LLC started cooperating with Otchiy Dom Children's Support Center, a charitable organization in Pokrovsk, Donetsk Region.
Join us in our efforts to make the lives of orphaned children more joyful and comfortable! To get a list of the most pressing needs please contact Oleksiy Kagan, Otchiy Dom Director, at Phone: +38 066 077 70 78
Organization's address: 85300 Donetsk Region, Pokrovsk, vul. Girnyka, 34

Phone: +38 066 077 70 78

Donations in UAH can be made to the following bank account:

Account UA933354960000026006051602592 JSC CB "Privatbank"

Organization's Code 25758318
BIBUS Ukraine LLC
Soborna Street, 118
Sofiivska Borshchahivka
Kyiv Region
08147 UKRAINE
Tel. +380 44 545 44 04
E-mail: info@bibus.ua
www.bibus.ua